Articles
Published: 23 August 2022

23 August 2022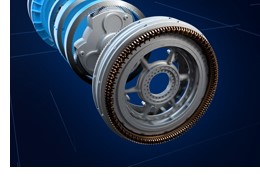 Over the last years, climate change has become an increasingly central concern for environment and society. In order to meet the future energy demand of the world, capacities must be massively expanded. Winergy foresees the future in offshore wind particularly promising in this respect, like Wood Mackenzie and other experts show in their studies.

Due to growing turbines, medium-speed as a modular design offers a compact and lightweight drive train solution. The Winergy HybridDrive is characterized by high reliability, compact design and high-cost efficiency at system level in increasing power classes. The functional integration of gearbox and generator reduces the length of the power train up to 50%.

As supplier for the HybridDrive system, Winergy offers its customers mechanical and electrical competence to support the growth in renewable energies in onshore and especially offshore wind application.