Published: 28 February 2017

28 February 2017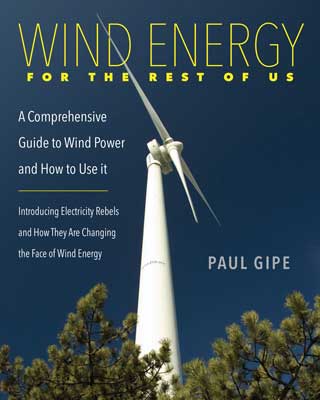 Wind Energy for the Rest of Us is Paul Gipe's latest book about wind energy. He has been following the wind industry since the 1970s, which makes him one of the most knowledgeable persons in our industry. The first edition of this book, then called Wind Energy, How to Use it, was published in 1983. Over the years he has been updating the book with the latest technological developments and views on the industry and it has been republished several times. This fourth edition of the book is one of the most comprehensive guides about wind energy available on the market.
By Floris Siteur, Windtech International
The book is a combination between a historical book, a textbook and a do-it-yourself book if you want to install your own wind turbine or want to invest in wind energy. It describes the different technologies available and the author explains what is important and what is not. The book gives a historical overview from the first electricity generating wind turbine in the 19th century up to the modern-style wind turbines we know today. It covers both large and small turbines, different design principles, grid-connected and off-grid turbines, installation issues, permitting and regulations issues, and much more. It's about the depth and breadth of wind energy, encompassing more than any one type of wind turbine. Name it and you can probably find it in the book.
Paul Gipe is also not afraid to give his opinion. He boldly states which turbine designs work and which do not. In the chapter on a 'silent wind revolution' he explains that the way forward is not coming from new and exotic or revolutionary wind turbine designs. Instead, this revolution is coming from new large-diameter wind turbines with low generator ratings. These wind turbines are making wind energy more cost-effective in more places than ever before. Indeed, this is also the way the OEMs are heading since most of them have introduced low wind speed versions of their turbines. At Windtech International we will report on large-diameter turbines as well as exotic new designs, as we have in the past.
Digital Edition
There is also a digital edition available of the book. This version offers photographic detail not seen any other way. Unlike the print version, the ebook allows readers to enlarge the book's images. Amazon is selling the Kindle version for a full retail price of US$ 30. Chelsea Green, the book's distributor, is selling the epub version at less than retail for US$ 24.
Wind Energy for the Rest of Us is liberally illustrated with photos of wind turbines from the past four decades. And the book also contains lots of background information, physical and scientific explanations of technologies and theories, graphs, tables, case studies and more. That is why it is difficult to categorise this book but also why it is such a great book.
If you want to get involved in wind energy, by installing your own turbine or being part of a community wind project, or want to invest in wind energy any other way, this is a more than helpful book. You can pick it up any time when you want to learn about a specific topic and dive into it. But it is also useful if you want to get a comprehensive view of where the industry comes from and where it is heading. Want to dive deeper into some of the technology? That is also covered by the book. Most of the technology is explained in easy to read English so you don't have to be a professor to be able to understand most of it.
All in all it is a comprehensive book which I am sure I will pick up often to look things up and I highly recommend this book to everyone who is already interested or plans to get involved in wind energy.
About the Author
Paul Gipe is an author, advocate and analyst of the renewable energy industry. He has written extensively about the subject for the past four decades, receiving numerous awards for his efforts. This most recent book, Wind Energy for the Rest of Us, is Gipe's seventh book on wind energy.
Bibliographic Data
Gipe, Paul
Wind Energy for the Rest of Us: A Comprehensive Guide to Wind Power and How to Use It. Bakersfield, California: wind-works.org, 2016. 560 pages.
ISBN: 978-0-9974518-1-8.
428 illustrations
118 tables
Retail price: US$ 65
www.wind-works.org