Published: 16 October 2015

16 October 2015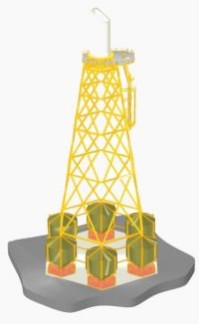 Maritime Offshore Group GmbH, the steel construction company conferdo GmbH & Co. KG, the Technical University of Middle Hessen and the Franzius-Institute for Hydraulic and Coastal Engineering at the Hannover University began a development project for a new offshore foundation, the Texbase.
The design is based on the Hexabase foundation of the Maritime Offshore Group and ThyssenKrupp Mannex and is planned as a gravity foundation. Components of the existing Hexabase will be combined with new supporting feet arrangements, which also will be equipped with ballast tanks containing several thousand tons of sand. The ballast tanks walls will be made of a resistible textile layer that will separate and held back the sand from the filled in mixture from the water. The foundation will rest on six plate-shaped elements, which will be made of very resistible fabric covered frames. This feature will enable the adaption to very different soil conditions without any environmental harmful preparation of the seafloor. The Technical University of Middle Hessen is responsible for the structural design. The Maritime Offshore Group will design the ballast tanks and the supporting feet elements. The steel constructor Conferdo will plan the production process and after-sales support. The Franzius-Institute will analyse the effects of the foundation on the seafloor like scouring in theoretical studies and tank tests in Hannover. The project will be finished in mid of 2017. The new product will be offered and manufactured by the ThyssenKrupp Mannex GmbH.