Published: 06 May 2021

06 May 2021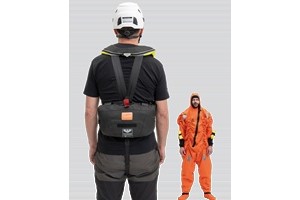 Viking Life-Saving Equipment has launched a new Walk-to-Work crew transfer suit. The new Viking YouSafe Walk to Work is a one-size immersion suit airtight packed into a bag that is attached to the user's lifejacket instead of being worn during the transfer between support vessels and offshore installations.
The immersion suit bag has been optimised for use with the Viking YouSafe Pro lifejacket and is compatible with most standard inflatable lifejackets used by professionals. Attached to the lifejacket's back via strong Velcro straps, the suit bag is clearly visible to the officer on watch while the user has free hands hold on to the rail. The immersion suit has a three-year service life expectancy and its weight is 1.37kg.