Published: 15 June 2016

15 June 2016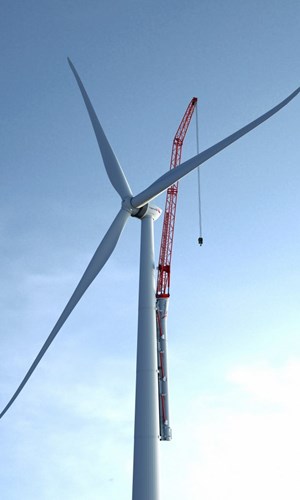 Lagerwey has developed a climbing crane to enable faster and cheaper construction of wind turbines. The Lagerwey Crane only needs a 350 m2 base and can operate under wind conditions of up to 15 metres per second. Lagerwey transports this crane on three regular trailers and erects it within half a day.
At the moment the crane can only be used for the modular steel masts that Lagerwey uses for the L100-2.5MW turbine and the new L136-4.0MW wind turbine. The modular mast consists of steel plates that can be joined together at the building site by fixing bolts in prefabricated recesses. The crane climbs the mast via the same recesses. The same crane can also be used for any necessary maintenance. Lagerwey wants to test the first prototype of the crane early 2017.