Published: 16 November 2021

16 November 2021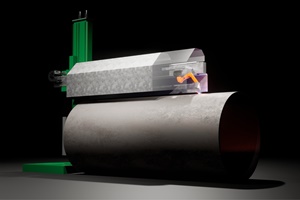 Inrotech has received an order for six welding robots from Bladt Industries, equipped with KUKA Robots, Lincoln Power Units and Enabl Tower Structures. This solution is specifically developed for automatic multipass welding of plate joints (butt-joints).
The robots will be used to weld offshore monopiles for wind turbines, which Bladt will produce in Lindø, Denmark. The order also includes a software package, remote monitoring, service and maintenance of the welding robots. There will be fully automatic welding. The operator just needs to start the process. The welding robot scans the welding gap itself and calculates where it should place the individual welding strands. Inrotech's robots will perform MIG-MAG welding on the large steel structures.