Published: 12 October 2017

12 October 2017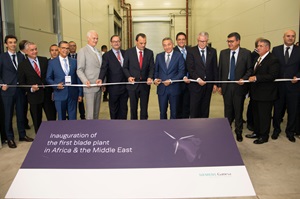 Siemens Gamesa Renewable Energy (SGRE) has officially inaugurated its new rotor blade factory in Tangier, Morocco, an event chaired by Morocco's Minister of Industry, Investment, Trade and Digital Economy, Moulay Hafid El Alamy, and Markus Tacke, CEO of Siemens Gamesa.
The plant of 37,500 square meters, which started production in April 2017, is strategically located in the industrial zone of Tanger Automotive City, at approximately 35 kilometres from Tanger-Med port. To equip the SWT-DD-130 platform turbines (up to 4.2MW power rating), B63-10 blades with a length of 63 meters are produced for export to Europe, Africa and the Middle East, as well as for local projects. The plant is ready to produce other blade models in the future, which could reach up to 75 meters. These integral blades are based on licensed technologies and made of composite materials.The blade plant will create 600 jobs, as well as an estimated number of 500 auxiliary jobs. A training center of 3,500 square meters was created to facilitate the knowledge transfer from Denmark to Tangier.