Walking further through the exhibition we found that PTS was presenting an addition to our recent comparison of offshore access systems (July/August 2005 issue). PTS has designed a remotely operated crane arm that can be used to lift people and equipment from the deck of ships onto the offshore wind turbine. We are looking forward to the invitation for the presentation of the first full-scale test model.

Extending Lifetimes

The market for used wind turbines is still growing. Not long ago it was the custom that wind turbines at the end of their economic lifetime were demolished. Nowadays, these turbines are dismantled, revised if necessary, and start a second life through specialised companies like Windbrokers, who were present at the exhibition.
Opponents of wind energy still proclaim that wind turbines cost too much energy to build in relation to the energy they produce during their working lifetime. However, by extending the lifespan of a wind turbine, progress is made in the cost and environmental balance.

From the Exhibition Floor

Voith showed us their liquid solution for saving the drive train. By mounting a torque converter between the gearbox and the generator peak loads can be absorbed by the torque converter, saving the teeth and bearings of the gearbox. There is a small sacrifice in the performance of the wind turbine, as a torque converter will always have some slip, but who doesn't want to gain greater reliability…
There were several providers of combinations of wind turbines, solar panels and diesel-driven generators at the Husum fair, presenting their energy solutions for areas without grid power. We can safely say that nowadays it is possible to have renewable energy anytime, anywhere.
After viewing the exhibits we went home with sore feet but satisfied. We had met a lot of acquaintances and we spoke with many new people who sometimes had travelled halfway round the globe to attend this exhibition. Walking through the Husum exhibition you can truly feel that the wind energy market has become a global market.

Satisfying Journey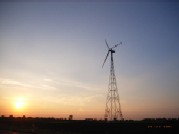 If you did not have the chance to visit the event this year, I encourage you to make the journey to Husum in 2007. I can assure you the trip is worthwhile. On the way back to the Netherlands we drove into a beautiful sunset, which we would like to share with you …{/access}