Published: 14 November 2019

14 November 2019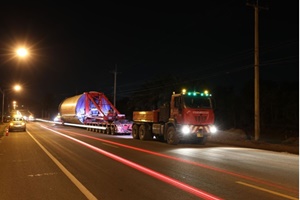 ALE has completed the transportation of heavy wind components through a 1,000 kilometres route to the Rom Klao wind farm in Mukdahan, eastern Thailand. ALE was contracted for the full-service package: the transportation, craneage and installation (TCI) scope of 13 wind turbines components, measuring up to 5.4 metres in diameter and weighing up to 125 tonnes. With a hub height of 162 metres, these will be the tallest wind turbine generators (WTGs) in South East Asia.
In order to overcome the challenges for this project, ALE has utilised their local routing and engineering expertise, and invested in specialist wind equipment, such as the RA4 tower clamps and the new K1650L tower crane. Manufactured specifically for the company to transport larger and heavier components, the tower clamps enabled ALE to comply with the local weight and height restrictions. Similarly, the K1650L tower crane was used as a cost and time effective solution to install the WTGs.