Published: 04 May 2010

04 May 2010
NREL to Develop the Next-Generation Wind Power Systems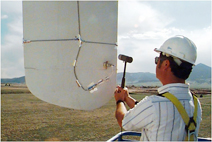 Engineers at the US Department of Energy's National Renewable Energy Laboratory use LMS Test.Lab in performing modal testing on next-generation wind power systems. Such systems are destined to radically change America's energy policies in the decades to come.
By John Krouse, LMS News Senior Contributing Editor, USA .

Want to read full articles? Sign up free of charge and login and read the full text of published articles on our website.