Published: 29 August 2016

29 August 2016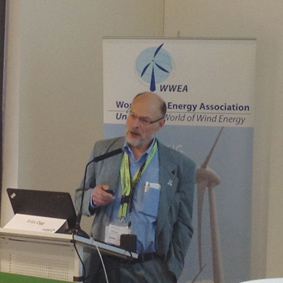 Energy consumers such as e-transport and stationary applications such as the telecom base infrastructure have a heavy power demand and therefore need either strong local generators or a stable and powerful electrical grid. This is often a problem, especially in those parts of the world with an unreliable supply and/or no grid. Loads from electrical vehicles have to be peak shifted and for a 24/7 electricity supply there has to be a back-up. It is not realistic to expect that the electricity supply will become more reliable everywhere in the near future because of the delays due to costs.
By Frits Ogg, Renewable Energy Consultant, The Netherlands
Hybrid energy systems, which combine renewable energy and hydrogen storage, are an optimal solution for off-grid power supply and off-grid transport based on hydrogen. Electrical power can be turned into stored gas by transforming the energy from wind into hydrogen (or as a liquid to methanol via hydrogen). Nowadays a lot of research is going on into producing hydrogen from wind and then reversing the process using fuel cells. Fuel cells convert the hydrogen to electricity at the moment we need it. There have been a number of great advances over the last few years. 'Power to gas' is a real distributed local solution with on-site storage of hydrogen which can be transported or made available, when needed, for use and as a back-up without being a burden on the grid. Hydrogen storage is also a solution to the problem of the need for batteries in the telecom base station market in those areas with an unreliable electricity supply; it even deals with the problem of diesel theft from remotely sited diesel generators (hydrogen is difficult to steal).
An interesting application in the field of transportation is the solution of ITM Power near Sheffield, UK, where a 225kW wind turbine powers a hydrogen fuel station (www.itm-power.com). Consumers can refuel their hydrogen car at the station.
In the telecom industry base stations are traditionally powered by diesel generator sets. Telecom base stations powered by hydrogen and fuel cells based on renewable energy have now become mature technology. The need for telecom base stations in the world is still high. The GSMA, which represents the interests of mobile operators worldwide, expects 400,000 new (4.5kW) base stations to be constructed by 2020, most of them in no-grid areas. For telecom a bad grid, effectively, is a no-grid. A bad grid has an interrupted power supply (several hours a day).
Everywhere around the globe, even in areas with a strong grid, mobile networks can be vital when a disaster strikes and power outages make other forms of communication difficult. Back-up power solutions based on fuel cell technology and renewable energy have advantages over conventional batteries and diesel generators. Fuel cells have, for example, a higher efficiency than diesel or gas engines, operate silently – important for urbanised areas – and eliminate greenhouse gases over the whole cycle.
Power to gas can be a valuable addition to an all-electric system. However, future decisions about what form of power supply and what form of energy storage we use will be made on the basis of a variety of information, not all of it just technical. The case for power to gas needs to be made positively if the normal tendency to adopt a 'conservative' approach is to be avoided.