Published: 22 January 2015

22 January 2015
Business Hub for the Growing Japanese Wind Energy Market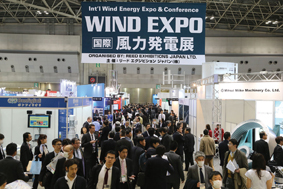 With a new feed-in tariff and an increasing number of certified ongoing or future projects, Japan's wind energy industry seems to be showing positive growth. To further facilitate the growth of the Japanese wind energy industry, Reed Exhibitions Japan will be holding WIND EXPO – Int'l Wind Energy Expo & Conference for the third time, to serve as a strong platform for professionals not only in Japan but from all over Asia and the world to conduct business, as well as network and share ideas.
Since its launch in 2013 the show has successfully continued to expand. A 10% increase was seen in the show's scale in 2014, but it is expected to expand even further (by 21%) in 2015. WIND EXPO 2015 is predicting 180 exhibitors and 80,000 professional visitors, including visitors from other shows running concurrently as part of the World Smart Energy Week.
As well as growth in the overall size of the show, the international profile of WIND EXPO has also been increasing and more firms from overseas are getting involved. At the 2015 edition, for instance, Siemens, Enercon, Senvion, Xzerus, Bergey Wind Power, Chava Energy, C&F Green Energy, Tyco Electronics and Hytorc will be participating.
Many countries will be exhibiting national pavilions, gathering together a number of exhibitors showcasing products and technologies unique to their country. Denmark, the Netherlands, the USA and Korea have already confirmed their participation as a pavilion.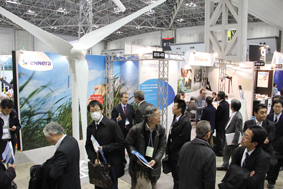 From Japan, Hitachi, Fukushima Off Shore Wind Consortium, Zephyr, The Japan Steel Works, Electric Mitsui Ocean Development & Engineering, Olympus, Fujikura, Jfe Mechanical, Eos Engineering and Service, Fuji Denko, Chugoku Marine Paints and Eco-R will be exhibiting to showcase their latest products, technologies and services.
Technical conference sessions and networking events will be held In combination with the exhibition. Yasuhiro Matsuyama (Director, New and Renewable Energy Division, Ministry of Economy Trade and Industry of Japan), Markus Tacke (Chief Executive Officer, Wind Power and Renewables, Siemens) and Kuniharu Takemata (Member of the Board, Executive Managing Officer, Electric Power Development) will be leading the WIND EXPO keynote session discussing the strategies and perspectives of wind power generation.
The entire conference will be covering a wide range of topics such as market outlook in Japan, global market trends, floating offshore wind turbines, bottom-fixed offshore wind turbines, gearless wind turbines, earthquake disaster prevention strategies, O&M, etc.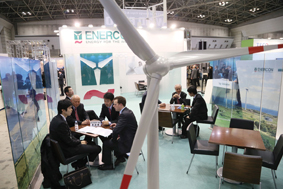 A reception will be held on the first evening of the show, to which VIP professionals from the wind energy industry will be invited. Every year, the reception serves as the best place for exhibitors, visitors, conference speakers and conference attendees to get to know one another and network.
As WIND EXPO is held under the scope of World Smart Energy Week, which consists of nine trade shows all specialising in smart and renewable energy, participants will be able to enjoy the opportunities of making new business connections with a wide range of professionals from other related fields. Overall, World Smart Energy Week is expecting 1,560 exhibitors and 80,000 professional visitors.
With the line-up of exhibitors, conference sessions and various networking opportunities, WIND EXPO is sure to be the hub for business in the growing Japanese wind energy industry. Note the dates 25–27 February 2015 so that you do not miss this opportunity to expand your business in Japan.
For inquiries:
WIND EXPO Show Management
Reed Exhibitions Japan Ltd
E-mail: This email address is being protected from spambots. You need JavaScript enabled to view it.
www.windexpo.jp/en/