Category: Company Announcement

Company Announcement

Published: 08 January 2020

08 January 2020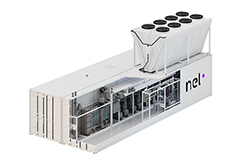 Stop curtailing excess power. Partner with Nel Hydrogen, a global, hydrogen company, delivering optimal solutions to produce, store and distribute hydrogen from renewable energy. Nel serves a host of industries, energy, and gas companies with leading hydrogen technologies. Since its foundation in 1927, Nel has developed and improved its water electrolysers, providing solutions that meet global hydrogen requirements for energy storage, grid balancing, and power to gas applications. Our patented Alkaline and Proton® PEM electrolysis systems are safe, clean and cost effective. Globally Nel delivers, installs and supports hydrogen gas generation units on every continent.