Published: 17 July 2018

17 July 2018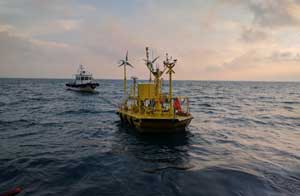 Ørsted, the developer of Ocean Wind - an offshore wind farm to be located 10 miles off the coast of Atlantic City – has announced the deployment of a buoy designed to measure wind and wave conditions.
The Axys FLiDAR WindSentinel is a floating LiDAR solution that will measure wind speed and direction to help determine the best locations and positions for wind turbines on the federally leased area. The AXYS FLiDAR WindSentinel buoy is also outfitted with a range of other sensors to measure surface wind speed and direction, directional waves, ocean currents, tide, salinity, water temperature, atmospheric pressure and air temperature.